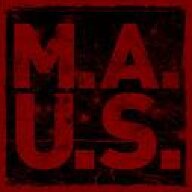 Joined

Jul 20, 2007
Messages

380
I was going to wait until tomorrow to post this but can't wait any longer...... Anyone remember all the hubbub over the stone my boyfriend returned? (
https://www.pricescope.com/community/threads/please-show-me-your-m-colour-stones.105454/
"Show me your M coloured stones" thread). Long story short: had bought a stone and setting, boyfriend freaked over the budget overrun and my POSSIBLE in person reaction to the stone (it was a 1.73 M cushion. Gorgeous setting but the pictures kinda freaked me out. It was entirely possible that I would have loved it in person but for some reason he didn't want to deal with it so..... back it went) so..... I now how a lovely eternity e-ring with a big gaping hole where the stone was.
Well........ shortly after this happened I had been reading and writing a few little quips to Little Grey Kitten about our similiar styles (gothey girls, bad finger tattoos etc.) and had happened to ask her where her antique mall was. My future sister in law lives in Seattle and I thought I'd swing by and check it out next time we were down there (I live in Vancouver, BC). Kitten told me where it was, I Googled it, and then I saw.... THE STONE! I literally GASPED when I saw it for the first time. There it was, in a repro vintage setting. I thought "No, no, no - that CAN'T be the same stone from her post last year!" (
https://www.pricescope.com/community/threads/new-antique-platinum-oec-ring.81289/
) I remembered reading this when I was first looking for a champagne stone and had run a search on here. I didn't know much about diamonds at the time and I had NO idea what the true colour of the stone could be based on the photos so I didn't think much of it at the time. Well..... below are much better representations of it (taken from Kitten's antique mall website - hope this is okay! I don't have my own pics of it yet)
So.... talked to boyfriend, told him about it.... went down on the weekend and..... it's now MINE! I am beyond thrilled with it. It is the prettiest colour I have ever seen.
The colour is....... SO hard to pin down. It's like a........ it's like a pinky peachy yellowey brownish grey? No, no, no, that's not right...... it's so variable that it's different in almost every lighting condition. In my bathroom (which is the only room in my apartment with incandescent bulbs) it just appears straight up blush pink with no other colour. In the rest of my place (all mini fluorescent bulbs of different wattages) it will appear peach coloured or flesh coloured (pinkish yellow or yellowish pink). In strong direct light (like under the halogen lights in the range over my stove) the colour will just sort of zone out and it will get that metallic steely look that low colour grades do (but in a grey colour and not bronze like most would). In general regular lighting conditions it's just kinda peachy and in low lighting conditions it is very light face up and will appear white or very off white. I haven't seen it in direct sun outdoors yet so I can't say what the fluro will do to it, but in indirect sunlight it definitely looked sort of lavender? Is that even possible???? Am I making all of this up in my head? The funny thing is that the FIRE is almost ALL on the warm side (it makes fire like a friggin contestant on Survivor!) Almost all of the fire flashes are peach or pink or orange or red or yellow! Only some are green and blue and purple. I thought that was interesting and would be interested in what the experts had to say about that?
Other things about it..... gosh, I'm so excited I forgot all the stats! It's an OEC. 1.08 carats but shallow so a bit bigger spread. Kitten's best guess for the colour grade was between about an M and a P (I think?) it's a little off round on one side but I don't think that would be noticible once set. It has a small chip on the girdle and that is my main concern. Esthetically, if it can be hidden with a prong, I don't really care, I only care about it as far as the long term structure of the stone is concerned. I'm taking it to an appraiser tomorrow who knows antique stones and she is actually quite excited to see it. When I first told her about it, I told her what Kitten had said about the colour. She basically said "I don't want to rain on your parade but..... that's not really possible". When I phoned her yesterday I said "Well - now I know why the colour was so hard to describe!!"
So.... that's it for now....... sigh...... more later (the saga of the SETTING continues! OY!!!)