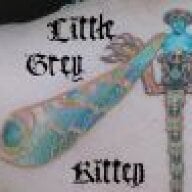 Joined

Nov 27, 2007
Messages

2,975
So I have now ended up with a *pair* of Old European Cut diamonds. The first one I got is a 1.22 ct N/SI1, which I posted a while ago, in a temp setting. I shopped, and shopped and SHOPPED AND SHOPPED for a final setting. Basically anything Van Craeynest was what I really wanted, and also what the DH liked, but the prices, starting at well over what I paid for just the diamond, pained me far too much- I mean, I could probably have talked the DH into it, but I just. couldn''t. do. it. Eventually, I was thinking of "settling" for a Beverly K repro at a mere $1700. Which the more I thought about it, the more it galled me to spend that much on a setting I just didn''t love.
So we finally went back to an antique ring I''d considered whilst shopping for diamonds originally. Yes it was on EEK EBAY, but the seller was OK with me spending some time deciding on whether I''d keep it or not, and the setting was *perfect*. The setting is an antique platinum die struck one, with that lovely perfect micro-millegrain that only the original antique ones and Van Craeynest have (that I''ve seen), and the engraving is gorgeous like the best antique pieces have. I love the design. I don''t think I could get JUST the setting reproduced for the price I paid for it WITH a 1.08 ct diamond. It''s a P/Q color I think, and is loupe clean, so I''m guessing VS something clarity (excepting a tiny chip on the girdle).
Here''s the interesting bit. The diamond in the setting isn''t off color towards yellow, it''s pinkish grey, and it changes in different light, from a mostly white but slightly steely color in overcast daylight, to deep grey in spot halogen lighting, to mostly pink in just about every other condition. I''ve never seen anything quite like it and I''ve seen many, MANY off color diamonds in my line of work (an antique mall with lots of estate jewelry). It has very little brown, no orange, and no yellow at all. I''d intended to swap the stones, and sell the one that''s in the platinum setting, but I''m really intrigued with the color. Plus, it has strong blue fluorescence, which I''ve always wanted. However, the original 1.22 carat OEC is a teeeeeny bit firier (and bigger! but same diameter), which it took me about a half hour to determine while fiddling with them in the bathroom where the light is best. Tough decision! They''re both beautiful stones, with great fire. The 1.22 is significantly deeper.
I''m still leaning towards swapping the stones, and then selling the pink/grey one at our antique mall, but I dunno... it''s awfully unique looking, and maybe I should just keep it myself since it might not be everyone''s cup-o-tea. I also showed it to several of our dealers who sell antique jewelry who were in the mall today, and one of them asked me what I paid for it- when I told her, her jaw literally dropped open, and she actually sputtered for a second- I thought for a second "Oh god, she thinks I paid way too much!", but it was quite the opposite, as it turns out. You can''t fake a reaction like that! (She, incidentally, voted for the new pink/grey stone.) Anybody got any input? Some pics following, which sorta show the color- it doesn''t photograph real well, unfortunately, it goes more grey than it is in real life.