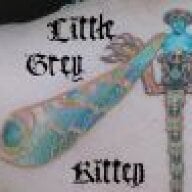 Joined

Nov 27, 2007
Messages

2,975
Yay, got a temporary setting so I can wear it at long last! The setting is a super cheap one from eBay, with a new secure head on it so no worries about losing the stone (my jeweler said the original head sucked so badly it wouldn''t hold the stone, it kept spreading out). I definitely will reset it though- with the very thin girdle, it''s gotta have more protection. It''s surprisingly white face up, I have to say the color is absolutely my favorite... I love warmer colored OECs, and this is just perfect for me. It''s just a soft, slightly off-white ivory color from face up and hint-of-pure-yellow with no brown at all from the side. The side pic is pretty accurate actually, color-wise. Please excuse the lintiness in the pics, and the cat hair, no escaping either. Specs:
1.22 ct Old European Cut
N color
SI1 clarity
6.8mm more or less
It has an EGL USA cert, and I think it''s pretty close to being accurate. I got it from Old World Diamonds, and I would love to shop with them again, the owner has all the stones there in person and will give you an honest opinion when you ask him- he told me several on my list of possibles were not great in person, which was incredibly helpful, and he said he thought the prettiest in person of the 5 or 6 or so I had him look at for me.
It''s eyeclean too. I finally found the inclusion with my bare eyeball but I have laser-like closeup vision, and I only spotted it weeks after I bought the stone. I tilted it at juuuust the right angle and stared super hard, after I''d gotten it perfectly clean, and from the bottom up you can see the tiny feather catch the light just barely. Still, I''d call that eye clean!
I tried to get a feline model volunteer, but one feline was busy howling at the door (yeah, that''ll happen- they''re indoor only). The next candidate ran off- he is super high strung and freaked out as soon as I set the ring on him, despite seeming to be sound asleep before. The third candidate was wedged beneath the computer desk snoring loudly, totally inaccessable. Oh well. No kitty pics. Maybe when O.P. (that''s Candidate #1''s name, pronounced "Opie", short for Orange Problem, which he is) stops howling at the door later, I can try again.
So yeah, bear with the pics... they''re probably huge.