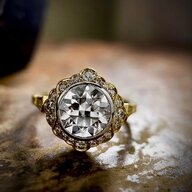 Joined

Feb 10, 2006
Messages

1,062
I purchased a ring from a fellow PSer in November. I had posted a WTB on Preloved and she reached out to me saying that she had a ring listed on eBay. I went to the eBay site and checked out the listing, and we communicated back and forth and I decided to purchase the ring. I received the ring, and while I do not have a loupe, I could tell right away that there were dark staining spots on the gallery of the ring. I questioned the seller and she denied seeing any staining on the gold. The original video from DK and all of her pics do not show the staining. Because this longtime PSer also worked with another well reputed PSer on the stone sourcing and custom setting with DK, I trusted that the ring would be fine and the qualities were as stated.

My son had surgery recently and because I have really lousy health insurance, I am needing cash to pay off the huge deductible and coinsurances. So I sold the ring to another PSer. The purchaser actually louped it upon receipt and found that one of the side stones has a small chip in it that was also not disclosed in the sale. The purchaser took it in to DK and was told that the ring did not leave their shop looking like that, and that it appeared that the ring was likely soldered and left unpolished. The purchaser has decided to return the ring as I agreed to a short return window, and I completely understand why. Had these issues been disclosed to me, I probably would not have purchased it either. The purchaser is out $120 on this deal for shipping and insurance both ways, for which I feel horrible about. And I am left with a ring that I will need to put money into for polishing, and a stone with a chip that I will now have to disclose and will surely make selling more difficult.

Has anyone had anything like this happen before? What did you do? Do I have any recourse?