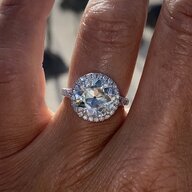 Joined

Nov 20, 2015
Messages

68
so even after multiple pictures, videos sent and specific language used with the local jeweler I used, my setting ( of course) did not turn out the way I wanted. In fact, things I specifically said I DIDn'T want were in fact, part of the setting. It is a beautiful ring, it was supposed to look exactly like a
Victor Canera
halo I saw here on pricescope but it doesn't. The main thing I dislike is that the halo itself has diamonds that are too small ( which I specifically said I didnt't want) and so it looks 'cheap' to me. Also, the other difference is that I asked that like the VC version, my stones on the halo were set to tilt towards the fact of the diamond , creating more of a seamless look that the face of the diamond being higher set than the halo, which is what they did. I also don't like ( and did specify) that I don't like the look of the prongs sticking straight up the way they do, they seem very noticeable to me.
I've had it for a week and been wearing it and sometimes i like it alright but most of the time it looks generic to me. It's also possible that i'm being too picky, but after having stalked a million rings I love I wanted mine to be perfect, and cost wasn't an object. I'm feeling disappointed that the very specific things I asked about didn't seem to be considered but now I fear I can't do anything about it.
I don't know what to do. I can't afford to throw 3500K out the window ( I used my own diamond) and I highly doubt they'll return it. am I just stuck with a ring I don't love? Could i have at least the upper diamonds reset the way I want/ any thoughts or advice appreciated.
Will post pics.