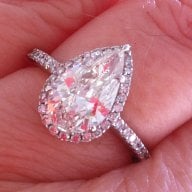 Joined

May 23, 2010
Messages

6,731
I didn't read all the posts, but wanted to add this concept

"What the other parents want to tell you about your kid"
My DD tells me everything about her classmates; I know who is sexually active, who's doing drugs, who's gay and hasn't come out yet, which boys are "pervy" on dates, etc. I meet a lot of snobby, rude parents and I just smirk, because I know a LOT about their kid.
I suspect the teachers have all this info too, since it's a small school and there's got to be gossip. If I were one of these teachers, I'm afraid I'd spill the beans in a parent-teacher conference! Or maybe I'd just blackmail junior


I think parents need to be a little more humble about themselves and their child, and take a teacher's advice. But, honestly, I don't think society is like that anymore. There is very little humility and even less integrity. . .