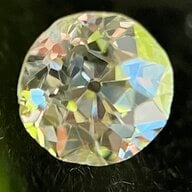 Joined

Dec 16, 2007
Messages

24,481
Had an interesting day at a few local jewlers.
First, it was a real pleasure to actually try rings on in person and see how they look! I like online buying, but honestly, in person is far preferable for settings.
Found a three-stone setting I really liked at one place, made by ArtCarved. Turns out that Artcarved only sells it including side stones and cannot modify the side stone sizes either

Then I found another setting I totally fell in love with!

Not a three stone

By Maevona. If anyone can see these settings in person, they are divine! The one I fell for was the Rora:
http://www.maevona.com//bridal/17/rora
. The delicacy does not come accross online, the shank is only 2mm wide! Sits flush with a wb. Perfect! Check out the rose gold undergallery! Sorely tempting I must say, this is one of the first times I have really fallen for a setting. The catch? Maevona only makes it for 1.25ct and 2ct stones... NOTHING IN BETWEEN!

WTF?? The jeweler is calling to look into this, but really, isn't that the pits?
Then I say a really cute little Stuller three-stone setting for like $350. Totally tempting as a temporary three-stone setting for that price. They are seeing if it can be ordered for my stones, but watch, with the luck I am having it will not be available either
If anyone wants someone they know jinxed, send them my way