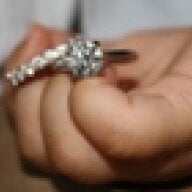 Joined

May 9, 2008
Messages

560
Hi All,
I hope everyone is doing great. I've been off these boards for a few mos now dealing with having 2 kids under 2 but am jumping back into the diamond world to look for my baby gift.
I'm interested in getting a pendant (received a tennis bracelet after having my 1st child) and was wondering what you would recommend in terms of diamond stats for a pendant vs. an item that would get more closely scrutinized, such as a ring. My budget is tight (around 2K) and so I'd like to get the biggest bang for my buck - I'm not very color sensitive, believe that I can go lower in terms of clarity for a pendant stone and would just love a diamond with tons of fire
Please let me know your thoughts - can't wait to hear what the experts recommend.
Thank you in advance!!