Joined

Dec 17, 2019
Messages

34
Hello lovely PSers! We finally got engaged in August and I wanted to share the final VC piece with all of you! We used the heirloom from my fiancé's family which has been estimated by appraisers to be anywhere from 3.35 to 3.7 carats, 9.7-9.9 mm across. We didn't have VC weigh it out of the setting since we forgot to ask! We also didn't end up recutting it as I was too worried about the heirloom being damaged. It's not a perfect diamond like many of you have and I can tell there's some light loss from the open culet and old MRB cut but I love my big old lively slightly imperfect diamond just the same. It's got life sparkle and quirks. Though I do dream of one day owning my every own large perfectly cut OEC or a large emerald in VC's sophia setting. Maybe as a future anniversary gift for my right hand haha
This diamond has been rated by appraisers to be an I, VS2, faint blue fluorescence with excellent cut and very good symmetry and polish. 98% of the time it looks white though sometimes it looks light blue or yellow in certain natural lighting and overcast. I never realized diamonds could change colors like that and find it really cool.
Victor Canera
made a gorgeous low setting for it with channel set French cuts. The platinum is SO lightweight and comfortable and just SO much better than anything I've seen before at local jewelers. I'm now seeking a hand forged band to pair with it and drooling over all the PSers who have posted their stacks. Unsure if I want to get a matching wedding band with French cuts and channel setting or go with something a bit more modern. I included a picture of it with the original eternity band which has tiny oec diamonds in a platinum channel setting. That ring is a bit too small and painful on my hand so I'm likely getting a band of my own. I've always loved shared prong diamond bands with a scalloped look but unsure if that would look good or weird together. I'll have to go play around with a lot of rings at some point.
I've been wearing this ring daily and sleeping in it to get out of the bad habit of playing with it, taking it off, and leaving it laying on a table while walking away... Glad I got this ring during a time when I'm always home otherwise I definitely would have lost it in a bathroom somewhere!
Right now I'm loving it but I may get another "daily rider" in the future if I start to feel uncomfortable walking around in such a large stone. Do any of you have a daily wear ring due to work? I'll be in outpatient healthcare eventually (private practice psychiatric provider) and would hate for my patients to judge me or feel uncomfortable with me based on what's on my ring finger.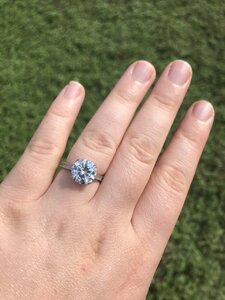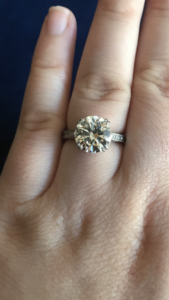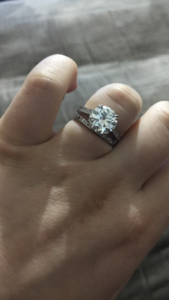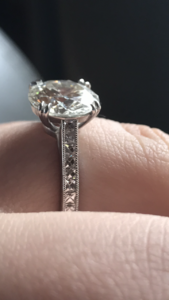 Last edited: