A stunning heirloom diamond reset engagement ring? Yes, please! This ring that was posted by PS Member, Thaifood122 in Show Me The Bling! on PriceScope's community is magnificent! This Victor Canera reset dazzler is the Jewel of the Week!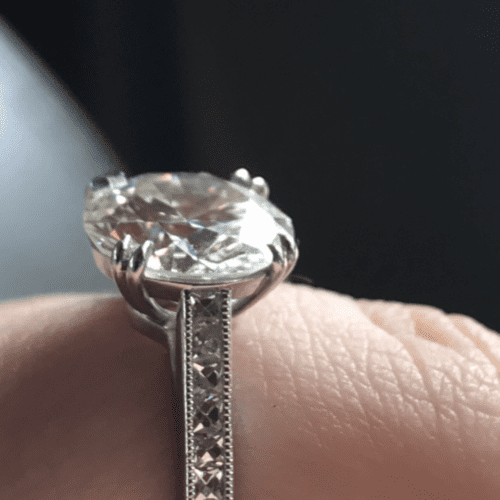 Getting an heirloom reset can be a daunting task, there is often a lot of history and love in that stone. Victor Canera has proven again to be completely trustworthy with such an important heirloom piece, though are not all jewelry pieces important in their own way? Victor's benchwork is incredible, the channel set French cut diamonds are the perfect compliment to this older beauty of a diamond. What a beautiful beginning to a lifetime of love and happiness. Congratulations on this finished piece, and on your engagement as well! We wish you a marriage filled with health, wealth, and joy for a lifetime. Thank you for sharing it with us!
STATISTICS
Heirloom diamond estimated by appraisers to be around 3.35 to 3.7 carats, 9.7-9.9 mm across.
Thaifood122 says: "This diamond has been rated by appraisers to be an I, VS2, faint blue fluorescence with excellent cut and very good symmetry and polish. 98% of the time it looks white though sometimes it looks light blue or yellow in certain natural lighting and overcast. I never realized diamonds could change colors like that and find it really cool."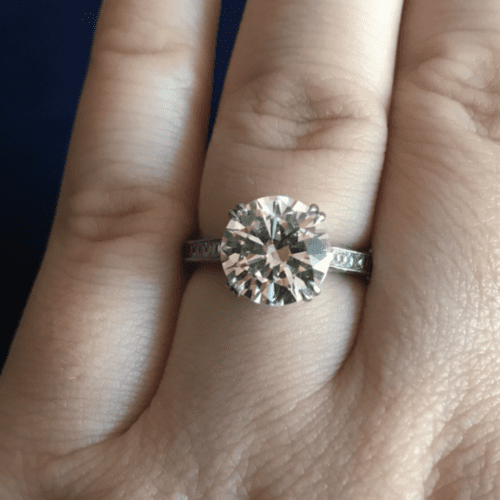 Have you recently received the engagement ring of your dreams? Share your engagement ring with us in the Show Me The Bling! forum and you could be featured as our next Jewel Of The Week.
Written by Kayti Kawachi