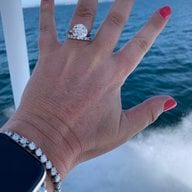 Joined

Jan 16, 2007
Messages

94
Hi everyone, I would really appreciate your thoughts on upgrading my diamond. I currently have a 2ct RB, G-H, I1 (love the inclusion because it is seriously shaped like the aerial view of the lake my husband proposed on), excellent cut. The diamond is not certificated and was sourced by a well know local jeweler who has since retired (hence why we are not going there). I want want to upgrade to a 4ct RB. I love my current diamond (I am happy with color and sparkle) and do not plan on trading in. I am going to buy another 2ct stone and pair as earrings. I have short fingers, my ring finger is only 2 3/4" long and I wear a size 5.25. So a 4ct is the max I can go for finger coverage. My desires for the new stone are 1. max finger coverage 2. sparkle (maybe the official term is brilliance). 3. play nice with wedding band - I have a 2ct RB shared prong eternity wedding band. The color of these stones is G and cut is excellent. 4. cost - like everyone I want bang for the buck
I have selected 3 stones and wondering your thoughts on each as it relates to my goals:
1.
https://www.pricescope.com/diamonds/round/4_05-carat-h-color-vs1-clarity-7213878
I know everyone raves about whiteflash and ACA diamonds. This diamond costs the most and I wonder if the diamond will be too flashy - will there be so much sparkle that it draws too much attention? I have never seen an ACA diamond. So, would the adage "you don't know until you know" save me some money (keep me in the "don't know" category). In other words, a less expensive stone may bring me the same joy. My concern with this stone is it would be so sparkly that it would make the diamonds in my wedding band look poor, and it would draw to much attention do so much sparkle. The color is H and I would feel more comfortable if it were a G. My current stone is either a G or H, am I really going to be able to see the difference with a cert H color?
2.
https://www.pricescope.com/diamonds/round/4_02-carat-g-color-vs2-clarity-5997674
I like that this diamond has a little bit bigger diameter than the WF diamond, even though it's a little smaller stone, and that it is G color. Based on the GIA cert specs and the video I would expect this diamond to sparkle the same if not more than my current diamond. However, for an extra 8k I could have an ACA diamond.
3.
https://www.pricescope.com/diamonds/round/4_01-carat-g-color-vs1-clarity-7883601
This diamond would allow me to purchase my second 2ct to make my earring set. I like the color, cut and measurements. I am just not sure about the medium florescence. My absolute favorite color is blue so if adds more blue sparkle that's cool. I have read up on florescence and understand what it is, however I have not seen enough diamonds to know if it matters. I like what this diamonds looks like in the video better than diamond #2. Do you find these videos accurate?
So what are your thoughts on these three stones? The setting will be a simple 4 prong solitaire.