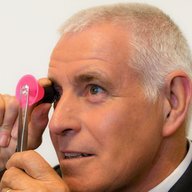 Joined

Aug 15, 2000
Messages

14,581
There has been another discussion about this topic, and the idea that Fluorescence plays a part. So I did a small test today with various different cuts.
Shaded daylight at 11am, close to the solstice, in Melbourne taken just now on 24th December. The shade is from my body. My hand was vertical and you can see me in the wedding ring and the blue cloudless sky. Its a hot day +30C 90F.
Note in direct sunlight the ideal-cut round diamond is showing blue from the sky and dark because the light from the sun is only lighting up a few facets. The sun is a very small point light source.
The other fancy shapes all have crushed ice effects because there are many small virtual facets and those stones are glowing with various reflected light bouncing all around in the stones.
The strongest fluorescence is in one of the cushions and the marquise. Fluoro has nothing to do with how the diamonds appear in daylight (other than improving their colour). In some very strong diamonds there may be a blueish sheen that gives some a fright or make others happy.
So looking at a really top cut diamond in direct sunlight is not a judge of anything.