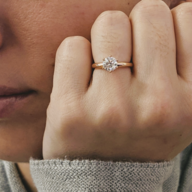 Joined

Jul 27, 2018
Messages

602
I would recommend that you get the real thing and get into an upgrade program.

The thing is being frugal can be great at times but it can actually cost you a lot in other instances.

In this case you already paid for an MMD AND a setting and will likely end up not wearing it. There is not much of a resale market for them. Now, if you order the 0.88 and Still don't like it then it will be money wasted twice.

I think in your case I would bite the bullet and get a real diamond over 0.5 and upgrade as it is comfortable for you. I just get the feeling you will enjoy it too.
I have no issue with natural diamonds, I did ask in the main thread and was told basically not to bother if I'm not willing to spend $2k+ and honestly I'm not because right now I would be happy with the .8 that's available now for $900 so why would I spend double that for an inferior natural stone?
The one I already bought won't be a waste, I plan to eventually buy another .5 and turn them into diamond studs, currently I wear cheap cz studs every day and would like to wear diamond studs instead.
And I assume you didn't mean this offensively, but mmd ARE real diamonds.
Are you sticking with LB because your budget is absolutely firm at $800? Because they aren't releasing 1 carats by the dozen for a reason. They are piercing them for a reason. For only $1200 you can get a graded diamond that pretty close to ideal cut. Will it be as amazing as a WF ACA? No, but that doesn't mean it won't still sparkle. And I bet it will look better than a majority of LB's diamonds. When you're on this forum, it can be easy to think that anything that isn't super ideal is basically crap, but for most people, a diamond will be beautiful even if it doesn't meet the highest of standards from people with thousands and thousands of dollars to spend. Will you be happy with 1 carat? Or will you keep wanting to go bigger and bigger? Can you afford that? Most people can't or don't want to. I hope you find something beautiful that makes you happy!

This one looks great on the video and the inclusion near the girdle could easily be covered with the right prong. The inclusion in the table is barely noticeable, I can't imagine you'd see it without magnification.

Shop Beautiful, Affordable, and 100% real diamond engagement rings. Clean Origin Lab Created diamonds are identical to mined diamonds having the same chemical, physical and optical properties as their mined counterparts.

www.cleanorigin.com

For $1300 you can get one that is cut to AGS Ideal & GIA Excellent standards. And that is a super clean SI1!
Thanks I will look at these. I might consider paying $1200 if it's the same as lightbox but I don't think it's possible. Lightbox was estimated as G/VVS VG/EX. So I could get the .88 from LB for $900 right now, and possibly a full carat for the same price, I don't think I would want to pay 50% more for a natural stone even if it was equivalent which it won't be, right?
Honestly not trying to be combative and I appreciate the suggestions, I'm just kind of over the whole biz and sick of the inflated prices. This isn't an investment for me, I don't plan to sell these ever. I just want a pretty ring.