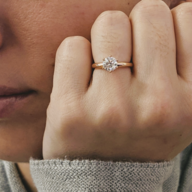 Joined

Jul 27, 2018
Messages

600
Some of you may remember me. I'm the most annoying person ever.
I settled on a .5 carat Lightbox lab grown diamond and my fiancé proposed at the beginning of January. Two months later I feel regret about the stone size I picked and want to upgrade to a carat. He doesn't mind since he didn't pick the ring in the first place.
I've been checking Lightbox website every day hoping to see the full carat for sale, but no one knows how long or if they'll ever offer them so I'm looking into other ideas in the meantime.
I've reached out to August Vintage but I had a thought that maybe you guys could help me find a pre-owned 1 carat or close to it. I figured these would be more plentiful as natural which is why I'm posting in RT, but I'm still open to MMD or natural.
I think I actually don't mind inclusions that much as long as the stone still looks white and sparkles a lot. This estate diamond I bought for my mom has a lot of obvious dark inclusions you can see even without a loupe, but in person I think it's still gorgeous.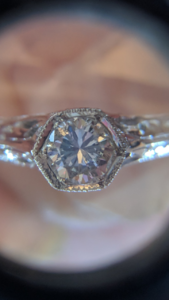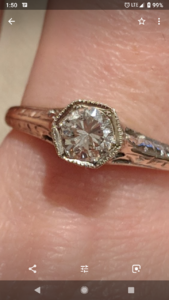 Am I crazy to think I could find a pre-owned 1 carat that's not a total dud for about $1k?