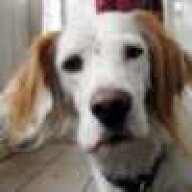 Joined

Jan 18, 2007
Messages

6
This is my first ever pricescope post...although I''ve been reading the forums for a few months now. I''m just getting into the swing of planning for my wedding -- June 1st -- and need some advice on wedding rings. I''ll post a pic of my engagement ring soon (its white gold, with a princess cut diamond flanked by trillion cut sapphires).

I''m 23, a very casual dresser, and what you might call "outdoorsy." I also spend a lot of time outside doing field work for my job. I''ve tried on and loved a wedding band with channel set princess cut diamonds, but I''m not sure that its quite my style. I loved the sparklies, but the setting felt really formal. More importantly, I don''t want to be worried about keeping my wedding band clean and protected while camping, hiking, etc. Besides the practical considerations, a blinged out channel set ring is just going to look ridiculous on me after days of not showering and peeing in the woods.

The other obvious choice is to settle for a traditional plain band in white gold. While I don''t have anything against this look, I''d rather have somthing with a little more detail -- possibly even diamonds or sapphires in a less formal, more unique setting. I''m not big on the engraved or celtic look -- although there are always exceptions.

Any ideas? I''d really appreciate any suggestions!