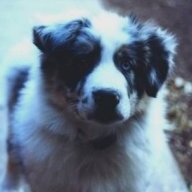 Joined

Jul 15, 2004
Messages

658
For all the dog lovers, post your baby''''s (or babies'''')pictures here.
This is Boomer, my 70 pound Australian Shepherd, also known as Boom Dog, Doggy Fizzle, Woofity Woof, Diggity Dog, ,Fluffy Butt, etc. I like to sing made up songs to him and he LOVES to go on W-A-L-K-S (must spell, he is too smart- you say "walk" and he grabs his leash and brings it to you). He is by far the smartest dog I have ever had. He knows 30 commands and is now learning sign language. Can you believe we got him at the pet store in the mall?
I LOVE HIM LIKE HE WAS MY CHILD! Oh, and he has one blue eye and one brown.
This is him as a wee lad.