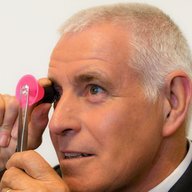 Joined

Aug 15, 2000
Messages

17,999
That 1.51 is sooooo weird! I wish the report or video were available. I assume it's the fluor plus inclusions that make it look blue?

Of course I love the asscher because its deep with a smaller table.
Scattered inclusions like clouds and internal graining do light up and make fluorescent stones hazy LoveDogs.
But the photos are always taken with light devoid of UV, so there would be no such effect.
This stone may have less inclusions visible when back lit and viewed through a microscope. (The opposite happens with twinning).
GIA do some upside down things and clarity grading with backlight is about one of the DUMBEST.
They are clearly even perpetuating it now that clarity grading is done by IBM.