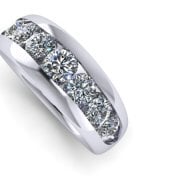 Joined

Dec 28, 2005
Messages

4,097
Happy New Year,

I hope everyone enjoys a healthy, happy, prosperous and sparkly 2006.

A couple of months ago, a friend and I decided to upgrade our rings. We each had two platinum and diamond bands. The store where we purchased them has changed their life-time trade up policy (amazing that when you want to use something like a trade up policy for real, it''s no longer availble), but undaunted, I found a high qualiy (independent) jeweler who was willing to take the rings in trade and custom design and make the rings we had in mind.

Finding the right stones took some time, but the rings should be fantastic. Both rings will have pretty much the same settings in platinum. My ring will have a 1.12 GIA Graded G/VS2 center stone, with two 1/3 carat G/VS2 side stones. The center stone will be set in a semi tension mount and the side stones will be bezel. My friend''s ring will also have two 1/3 carat G/VS2 side stones, but the center stone will be (and I can hear some groans already) an enhanced (yes I know it''s iraddiated) 1 carat ''blue'' diamond. We saw the stone and it''s really beautiful. It''s also VS in clarity and it really sparkles. My friend has always wanted a blue diamond, but not many people can actually afford a natural blue stone, so an enhanced stone gives that opportunity.

Anyway, my birthday is this week and this is my birthday/holiday present, so the rings are supposed to be ready on Wednesday.

I''ll post pictures once we''ve gotten the rings.

Till then........