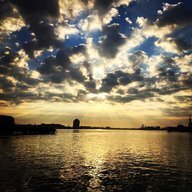 Joined

Mar 26, 2010
Messages

139
Hi,
Got engaged in 2009, married 2010, been 5 years of bliss, but many things have changed, and I feel my diamond tastes have evolved along the way.
I'm thinking of the forever stone, setting, and want to get some thoughts from the veterans here on the site.
I currently have EC 1.40 G SI1 EX VG 66.5% 60% 7.45x5.41x3.60, its a beautiful stone, purchased from ERD/BG, set in a LM four double pronged platinum cathedral setting.
But a couple of things have been learned since purchasing. My hair is very fine, it tangles on anything, and I've gotten it stuck in the prongs a couple of times, and we have a toddler, running around chasing her, not always delicate, because of these things I find myself not wearing my ring
This has made me think about the forever setting, and I've set on a bezel setting for security and ease of wear.
What I am really in love with is OEC, I have debated about going vintage or with a new precision cut OEC (gold old gold is the only vendor I know of, if there are others I'd like to learn about them), but in the end think I will want to go with a new precision cut stone that really sparkles. Been wearing a 7.5mm CZ to see how I liked it (know it is a little bigger than what I'm shopping for), I reeeeally like it.
So my plan is this:
-Cosign the ring whole and try to sell, if not possible then separate and sell
-Find an OEC in the 1.5-1.64 tc range, warmer color than my EC, J, K, or L, SI1 or SI2 (eyeclean), Ideal Cut/Symmetry/Polish. Not in a hurry, will wait for the right stone to come along.
Setting I'm thinking about is a Platinum bezel set, clean, split shank for a little more finger coverage, no basket.
So that's my vision of how I'd like things to go. What I'd like is input on what doesn't sound realistic, things I'm not taking into consideration, what I need to watch out for, etc.
Thank you!