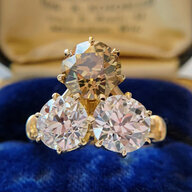 Joined

Jul 23, 2012
Messages

19,962
panastas|1444067196|3935037 said:

Thanks for the continued advice its much appreciated!!!

I attach the video of the NSC ring just to rest my mind in peace for that one since it was my original choice.

https://www.youtube.com/watch?v=v6B2p-pKsJg&feature=youtu.be

Let me know if you still think its such a bad buy.

The Leon Mege stone looks lovely but I think I want some more size so at $28k 3ct is too expensive for me even with some negotiating!!
That's understandable, but I do think that's what top untreated sapphire is going for, considering he might take 20k