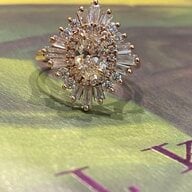 Joined

Nov 7, 2021
Messages

109
Some time ago this fabulous forum helped me to make a decision on a ring. I have enjoyed it ever since! It is just such a pretty, sparkly, little thing! I think the method that Garry Hallway has developed and made accessible to all of us is nothing short of amazing. It takes so much guessing out of the game!
All pictures were taken with my old I-phone, no editing at all. The ring REALLY DOES sparkle like that and actually even more in the sun!
How do you manage to get anything done with this gorgeous ring on?? I would spend all my time staring at it!