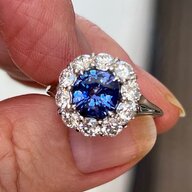 Joined

Aug 18, 2013
Messages

11,061
This ring represents crossing something major off my 'want to have in my collection' list. I've ummed and ahhed and gone back and forth about this for, literally, years - and it's finally done!
It's a tapered 7 stone ring by DKJ - 2 x .16, 2 x .26, 2 x .41, 1 x .63. When they're all on the scale together, they come to precisely 2.3ctw. The stones are all h&a quality, and they're all E VS1/2. It's set in platinum.
The ring was made by DKJ's new uber bench and he is AWESOME. Although the ring was cast, he had it made extra chunky (you'd never know it from looking at it, would you?!) and hand carved the band till it was the elegant shape it is now. I had also originally wanted claw prongs, but I actually think these show less metal, and this ring is aaaaaall about the diamonds!
It's comfort fit, rounded on the underside, and should be very comfortable to wear. I had the sides closed in so it had as few gaps as possible as I want the ring to be a work horse and to wear well. So far I only have the video, but I'll be adding photos when I have it in my hand. Yay!