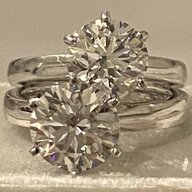 Joined

Nov 2, 2003
Messages

1,458
2.18 E-VS1 CBI on the left

2.79 F-VS1 CBI on the right

Both on a diamond tray.

I think that the stone on the left is whiter.
How am I even supposed to respond to that when I'm drooling over your amazing diamonds and such beautiful mountings??... not fair!!!
They (whoever they are lol) do say that D and E are virtually impossible to differentiate except to a very trained expert, whereas they say there is a slightly discernible difference from E to F. With that said, your F is larger so more concentration of color (that's not there lol).
But you are presenting an E to an F... that's very different from, say, an F to an I.
Irregardless, I'm just going to sit here and "enjoy the view" of your delicious rings!