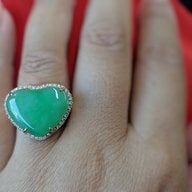 Joined

May 17, 2014
Messages

4,830
@Lovinggems
that is gorgeous!!!! Is that the one?
I know the prices for those and yes I think you'll have to go thin!
It's absolutely beautiful!!! And the green just pops!!!!!!! GET IT!!! And take care of it well!!!!
I'm looking at that and I'm thinking the things you could compensate on are: colour, the glassy-ness, thickness, size.
I'm guessing you wouldn't want to compensate on the glassy-ness based on your long pursuit of this. I personally wouldn't compensate on color. That leaves size and thickness.
Unless you are ok to go down a few notches in color but you know me, I'd hold onto color!