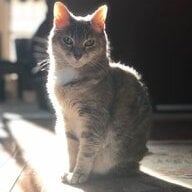 Joined

Jun 17, 2009
Messages

14,086
Well, I've got it...and the setting is gorgeous!! The detailing is beautiful and the milgrain is delicate - I'm really happy with the quality - but...I have to say...after all my calculating and measuring, this ring looks bigger on my hand than I thought it would!
This is going to take some getting used to!
I do love it - it's the most beautiful piece of jewelry I have ever owned - it looks awesome from a distance. And my diamond definitely looks bigger and the faceting is more apparent in the halo. Dreamer had said in my other thread that the optics of my stone would improve with a more enclosed setting, and she was right. The trade-off is that I feel the stone shows a bit more tint in certain lighting conditions due to the contrast with the melee. It doesn't bother me though, just something I noticed.
I kind of wish that the stone was set a tad lower...but then again I think it might help my diamond stand out from the halo. I'll live with it for a while and see how I feel.
I want to thank everyone who helped me out in my other thread - you are all the greatest! Oh, and of course a big thank you to bastetcat for basically picking out my setting for me!