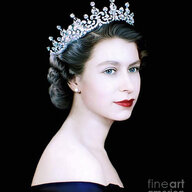 Joined

Oct 24, 2012
Messages

4,977
Alex, I do have a question for you, and hope it is okay to ask in this thread. I was not sure of the protocol otherwise. Have you ever experienced stretching/breaking of your Tiffany dbty? I know they have a delicate chain and I believe you said you wear them regularly. I'd love to know if you have had any issues with the fine chain. Thank you!!
Hi there! Mine are both platinum & as far as I know they have never got any bigger? I've never measured them, but they have been pretty much constantly on my wrist for the best part of 9 years as of Mothers Day here 10 days ago. I did lose the pink sapphire about a week after I got it & was devastated. However, my mother spotted it glistening at the bottom of one of the stone steps up to her house about a month later. Bearing in mind the stone is chunky & her entire driveway is very old cobblestones, it was amazing she saw it due to all the nooks & crannies. The bolt ring was broken & the springy pin part was missing. Tiffany were quick to replace the clasp & have it back to me very quickly & touch wood, all fine ever since. I've snagged them too many times to count, but never snapped one. I wear them on the left & I am right handed, so perhaps this protects them a bit.
Are you going to get one? They are very pretty & that tiny .07 diamond throws off some serious sparkle. I wouldn't be without them.