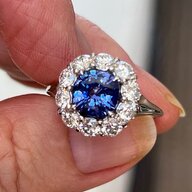 Joined

Aug 18, 2013
Messages

6,263
My best girl friend gave me half her mother's antique muff chain to use on the memorial pendant I had made for my precious dog when he died. I had almost 8" left over after that project, so got a spring clip added to wear it as a bracelet. But - even tho it's thick and substantial - it looked like...just a piece of chain.
But I had a bunch of OECs that I'd bought randomly, knowing I'd do something with them at some point and, as my jewelry collecting is winding down, I figured now was the time.
So Amy at DKJ and I designed a sparkly doo-dad to attach to my bracelet piece of chain, and here we are! It exactly hits the spot! We used 1.58ctw of old cuts, and I still have a few left over (no idea what I'll do with them!) and it's made a gratuitous sparkle bomb! I intend to get the back engraved with a Florentine pattern at some point, but I couldn't decide on a pattern so am wearing it till I do.
And here it is!