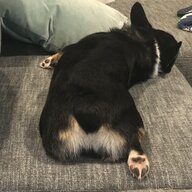 Joined

Jan 4, 2019
Messages

1,054
@joelly

OMG WOW!! please start a thread for this asap. And post like a million pictures. What a beauty!

@winnietucker

what will you do with the setting/other diamonds if you're not using them all in the reset? Would you feel comfortable posting your inspiration ring?
I'd prefer not to. I'd at least like the owner of the inspiration piece to be the first person who sees it (aside from myself).
I'll sell the old setting and the smallest diamond and probably use that money to turn my 1.3 ct round into a graduated 5 stone.