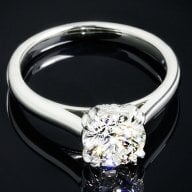 Joined

Feb 5, 2017
Messages

516
What a fabulous thread! I so enjoyed looking at everyone's beautiful watches. I've decided to buy myself an heirloom-quality watch for my 40th birthday that I can eventually pass down to my daughter. I have three years to save up.

I'm taking my time deciding which watch to choose. Although I do not own a luxury watch yet, I figured I'd add eye candy to the thread, if that's okay. Here are the watches I've tried on so far.

The front-runner is a Rolex Datejust 31mm SS fluted bezel jubilee bracelet with roman numerals and MOP face. Of course, the most expensive. Maybe a 28mm would be better.

I also tried these two Rolex, but I definitely want a MOP face.

I'm also drawn to Omega. Here's the Speedmaster Aqua Terra 34mm with (Gray and white) MOP face and diamond dial. The face is lovely, but too big and a bit chunky for my taste.

I randomly found the perfect Aqua Terra as an estate piece, 31mm in rose gold with diamond bezel and MOP face, but I'm sure it will be sold by the time I'm ready.

The Omega DeVille with MOP face. Lovely but not a top choice.

I plan to try on the Cartier Ballon Bleu and Tank when I visit NYC soon. I'm open to any suggestions.

Hopefully, I can post my own watch here in a few years.
I vote for Cartier tank. There is nothing more timeless.