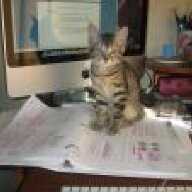 Joined

Dec 28, 2010
Messages

124
Hi everyone!
Just reserved/purchased an
ACA
from
Whiteflash
and am having some cold feet. I have been heavily researching diamonds for the past 1.5 years and pestering my boyfriend of 7.5 years about taking the plunge. I spent the day yesterday looking at everything I could about diamond color and watching the
GOG
videos re: color. The differences between the diamonds in the colorless range and within the near colorless range were barely perceptible to me, but the cost differences were substantial. I have seen countless diamonds here that are J's and below and have thought that they are beautiful.
My diamond will be set in a solitaire so no problems with competing there. I'm fairly certain that I'm one of those girls that color doesn't bother me.
But...I would love to see some pics of your J's with stats (cut quality, +/- fluor) to reassure me that I made the right decision!