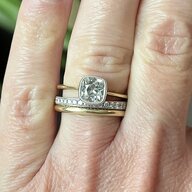 Joined

Aug 8, 2019
Messages

257
This.

I have a little Thunderbird pendant that is weighty for its size and it is fixed in the center of the chain and it drives me nuts. I find myself constantly... neurotically... adjusting it. Still love it though and it works with the design but I much prefer a moving pendant. A visible clasp is more of an eyesore than an idiosyncrasy of function.

Maybe a decorative clasp or a weighted ball might take care of the eyesore aspect of an errant clasp. You could also try a chain that lays flat since those tend to move around less when worn.
I love this pendant!!!