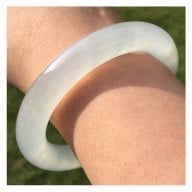 Joined

May 1, 2009
Messages

4,178
However, I've heard (perhaps erroneously) that for paraibas, the transparency is a side effect of not having many inclusions, so it's a trade-off between two evils.
Nah. Windows are due to cut issues. You can have transparent gems with no windows.
Putting a plate behind the stone can maybe help minimize the effect of a window. A nice big Paraiba with good clarity and nice color is hard to come by so but given the price you are paying, you have to decide if the trade off is acceptable?