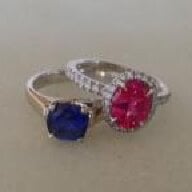 Joined

Feb 29, 2008
Messages

4,837
Date: 4/15/2009 10:51:48 PM
Author: Chrono
I love Terry''s work and since she works with high karat gold, your spess will really shine in it.


I like the open design of the Sholdt but the exposed girdle on the north and south end worries me. If you do choose that route, I''d add a collet (collar of metal around the girdle) as added protection.
I wish she had more stuff on her website. I am still trying to get an idea. I like the design of Sholdt, but I probably would not use them because of the open design. I just like the curves on their rings. That is why I was looking at halo styles, because it would be an attractive way to add a layer of protection.