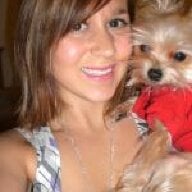 Joined

Jan 10, 2011
Messages

45
Hey all, having difficulty expressing what I like in words, I can certainly point out what I like but when it comes to explaining why, my diamond/jewelery knowledge fails me. (If I make NO sense in this, please forgive me, I really don't know what I'm talking about, but I'm trying.)
I know I want:
*Round Brilliant *White Gold *Halo *Pave 1/2 Band *Minimal metal showing on halo & band *double prongs (8, 4 sets)
Scott Kay Ring
http://store.royalfinejewelers.com/store/i/is.aspx?path=/images/Scott Kay/M1657R307_UR.jpg
*Here the diamond sits too high on the halo, how do I communicate this?
*I do like however, how the band meets upwards instead of at the bottom, again how do I communicate this preference?
Prefer a halo similar to this, minimal metal showing.
http://www.bluenile.com/diamond-engagement-ring-platinum_7814
and I like how the front view of this is, where the pave diamonds sit flush against the center?
Also, I think I prefer the halo to be slightly squared but to accommodate a round? Does this make sense? Cushion???
Just looking for help so I can effectively communicate what I want to the jeweler when the time comes, thanks so much.