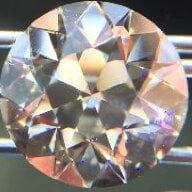 Joined

Aug 25, 2016
Messages

130
Hi Lovely PSers!
I'm hoping I can get some of you to chime in on which setting I should get for my engagement ring. I've never owned any jewelry other than a tiny silver ring I made myself in a jewelry class, so I have no personal experience to draw from here.
I still have a few months before I have to decide, but I find myself anxiously going back and forth between options and I'd rather make a definitive choice now and relieve myself of this stress!
We are planning for a
~8.5 mm OEC stone, I/J color.
Here is my dilemma:
Rose gold has always been a thing in my family. I grew up seeing my mother and grandmother wear it, and my few childhood rings were rose gold. For this reason, I've ALWAYS pictured my engagement ring in rose gold. So, I fell in love with
Victor Canera
's
Jocelyn
, but (for durability) wanted only a single row of shallow, u-cut pave, plus all the prong and basket action. To me, rose gold is prettiest when it has either a pave-encrusted or engraved texture to it. This is the ring that made me fall hard for the Jocelyn:
https://www.pricescope.com/communit...ature-cushion-w-rose-gold-triple-pave.186806/
Then, a few weeks ago, while doing research, I came across
LLJsmom
's Jocelyn in platinum and, for the first time ever, LIKED the look of a silver/white ring. But I still hypothetically preferred rose gold and was mostly set on it.
https://www.pricescope.com/community/threads/victor-canera-jocelyn-with-scalloped-basket.208952/
Fast forward to this week, and I've been doing a lot of research on here regarding long-term durability of these pave settings. While I DO intend to baby it as much as possible, I want my engagement ring to be an everyday piece. I want it to last as long as possible without going out of round or warping. It began to dawn on me that, in order to get that kind of durability with pave, I'd NEED to go with 2mm+ shank thickness and bright-cut pave instead of u-cut.
Here is where I hit a wall. The few images I've found online of bright-set pave in rose gold, I just don't like the look that much. I feel like u-cut pave in rose gold is a perfect balance of (mostly) white stone and (accents of) pink metal. But rose gold with bright cut pave, the addition of the walls throws off the balance and the diamonds just look out of place and overwhelmed by the pink metal. The contrast between the two seems to just make the walls seem larger than they really are and the diamonds seem smaller than they are.
This is an example of what I mean. Don't get me wrong, I think this ring is gorgeous, but it definitely doesn't have the seemless, wall-to-wall bling look of LLJsmom's ring:
http://www.pricescope.com/blog/jewel-week-ritani-engagement-ring
RG bright-cut: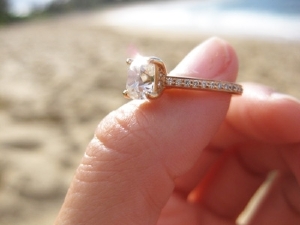 Plat bight-cut: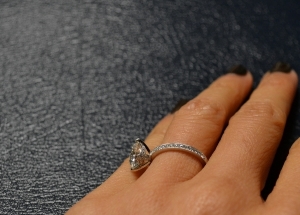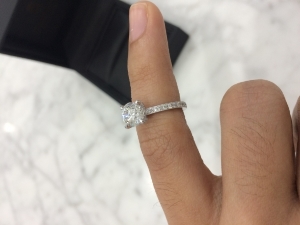 So basically, I've realized my options are:
1.) More "love", Less Durability
: Stick with the rose gold Jocelyn with a single row of u-cut pave, and hope for the best, shank width 2mm or greater, can do J or even K larger stone.
2.) Less "love," More Durability
: Switch to the bright cut Jocelyn in plat, shank width 2mm or greater, would need to shoot for an I stone, so probably slightly smaller size stone. Would do a rose gold pave WB in this case.
Which option would you pick and why?
Thanks in advance to anyone who makes it through the entire post and can offer opinions/experience!