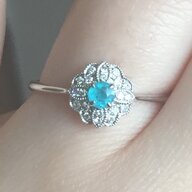 Joined

Mar 5, 2017
Messages

82
I think heat treatment in tourmalines IN GENERAL is not possible to determine with certainty, so I take "untreated tourmaline" with a grain of salt and would not pay a premium for a claim that no lab would be able to verify with the current science.

It is a beautiful stone.
Yes it is
Just to clarify, I didn't pay extra for it to be unheated. I purchased as close to the source as I could, from a vendor I trust, who is as picky as I am. I'm in love with the stone. And maaaybe that's why I'm having such a hard time deciding on a setting.
I have other loose stones for which the setting is already decided in my head because it just seems obvious. But with this baby, I want to get it right. Has that ever happened to anyone else?
I love the cleanness of the bottom cluster design, but the "flow" of the wave design. I'm thinking about asking the designer for a hybrid...