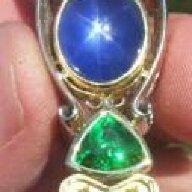 Joined

Dec 2, 2009
Messages

89
I have found a lovely little 1.49 ct Burmese ruby. The first picture is of the stone in natural sunlight. It's very beautiful. I got it checked out by GIA and it came back as Burmese Heated (minor residue). The price prior to having the GIA cert was $8.5k Now the cert has come back I would like to ask anyone in the know:
is this Burmese Ruby worth the retail price of $8.5k?
If it was Burmese pigeon blood unheated I realize it could go for $15k/carat. I also realize that almost all rubies have some form of treatment and that many jewelers older stock is treated and the jewelers do not realize this. Trade practices change. I'm also aware that finding true Burmese rubies untreated is as rare as hen's teeth. I've enclosed a picture of this stone beside 4 smaller rubies that are GIA certified Burmese Origin Pigeon Blood and no treatment for comparison. I've also enclosed a picture of the excellent fluorescence from all five stones. I'm open to thoughtful opinions.
I
s this Burmese Ruby worth the retail price of $8.5k?