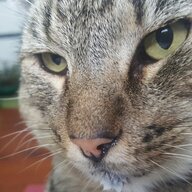 Joined

Apr 30, 2019
Messages

5,742
I know we have some international posters here, so I'll start at the beginning...

There is a tradition here in Texas for "Mums." In the fall, there is a special football game at high schools called "Homecoming" where people who attended the school in the past come back for a visit. During Homecoming girls get "Mums." These things are huge. Silk mums that measure a foot/ 30 cm across that have tons of streamers and decorations on them.

At the beginning of my teaching career 26 years ago, we would pin these on our shirts and utilize the bra strap. Based on my experience with Mums, I could see it as entirely feasible that some of these brooches are supported by a bra strap.

Now days the Mums are even bigger. Usually they just hang around a girl's neck on a cord now because the bra strap no longer gets the job done!!
Us international posters need pictures !