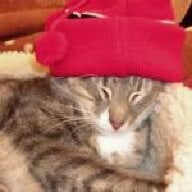 Joined

Aug 14, 2009
Messages

19,813
@distracts
@missy
@Mamabean
@Daisys and Diamonds
@cmd2014
@JPie
@MollyMalone
- Thank you all so very much for your thoughts. They help more than you know. It's been a rough week but... I remind myself that it could be so much worse - there's still
hope
that we can beat this. I've had sick pets, I've lost pets - but never to cancer. We'll see what news Tuesday brings. Our understanding is that amputation, dramatic as it is, doesn't reduce a cat's quality of life the way it might for a human; D and I talked and if taking his leg isn't viable we most likely won't subject him to radiation or chemotherapy - it would torture his body and he wouldn't understand.
@missy
I'm SO glad you'll have Elaine to help with the weekly baths!! Poor Fred, his bald spots are obvious when he's wet
I'm so happy to hear he's eating again. Even a little. To be honest I was hesitant to post, because I can certainly imagine your Amityville Horror - to use
@MollyMalone
's distressingly apt description! - feels like "torturing them in ways they don't understand"
You're both doing the best you can. This thread is testament to how big your hearts are - so much trauma, and no end in sight, and not a word of blame to be found. I admire you both. I'm not particularly religious either, but I'm praying you start seeing indisputable improvement soon, and that you and your cats all get through this with health and sanity intact! I would never, ever have guessed that a fungus could wreak such havoc for so long!
Ditto
@Daisys and Diamonds
- Don't feel bad about the bedding!! All our cats prefer boxes and newspaper to cat beds too, just like Borris - and I'm pretty convinced they take especial glee in furring up fresh laundry