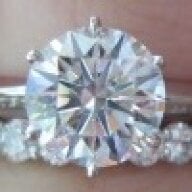 Joined

Jan 29, 2007
Messages

5,497
Hey everyone, I know I''ve been talking about doing a reset for some time now, and as our 3 year anniversary is coming up in May, my husband gave me a budget and the go-ahead. I''m finally going to do it!!! The thing is, that the budget will either cover a reset for my ering, or a beautiful shared-prong eternity band, but not both. I am undecided as to what to proceed with first (I can do the other as another project in the next year or two) so I was hoping that you guys could help me decide which to do first.

What I''m thinking is probably the best choice is to just get a platinum, shared prong eternity band to wear with my current solitiare (I''m thinking around 7 pointers) and then reset my ering for my 5th anniversary or something. I think this may be good because the eternity band will look good with virtually every ering that I like. However, I REALLY want some sidestones or something for my ering, so maybe I should add sidestones instead, make it a big, blingy ering, and then just pair it with a plain 2 mm plat band.

Here are the poll options, with pics attached - let me know what you think ...