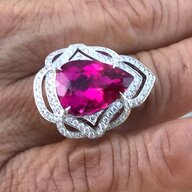 Joined

Dec 26, 2017
Messages

1,379
There being no great objections I propose this as is.

True that at the extremes lower girdle and star facets can be an issue, but since it is likely most people will stick to the green zone - for now I think the KISS rule should apply.

Next question - where should this sit so it is accessible?
I noticed on this latest version of your chart the 40.5° PA was changed to 40.4°. To me the obvious question is why isn't there a 40.2° option? Adding that option and explaining on the top line why it's not desirable might be informative.
I would also move the bottom line of the chart to be directly under the colored section. When I first looked at the chart I found myself wondering why certain table sizes were better for Earrings and Pendants!