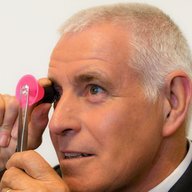 Joined

Aug 15, 2000
Messages

15,670
I lost it a few times when proportion recommendations were very narrow. The seem to have been based on super ideal branded #'s.
(I am not intending this as guide for those companies - if you are buying from our esteemed branded vendors you do not need HCA or guides like these)
So I thought it would be good to put together a chart to help helpers of newbies.
These are no way final numbers and everything is open to debate and discussion.
This may not even be the best way to present such info.
I have left off depth % - we can debate it - but my PoV is that a VG Tolkowsky with a thick girdle is a great way to get a 1ct RBC and save some money - and apart from a small diameter it makes little difference to the beauty of the diamond.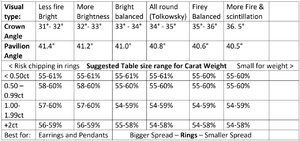 When I imported the table it messed up a bit:
Visual type:
Less fire
Bright
More Brightness
Bright balanced
All round
(Tolkowsky)
Firey Balanced
More Fire & scintillation
Crown Angle
31°- 32°
32°- 33°
33° - 34°
34° - 35°
35°- 36°
36. 5°
Pavilion Angle
41.4°
41.2°
41.0°
40.8°
40.6°
40.5°

< Risk chipping in rings Suggested Table size range for Carat Weight Small for weight >​

< 0.50ct
55-61%
55-61%
55-61%
55-61%
55-60%
55-60%
0.50 – 0.99ct
58-60%
58-60%
55-60%
55-60%
55-60%
55-60%
1.00-1.99ct
57-60%
57-60%
54-59%
54-59%
54-59%
54-59%
+2ct
56-59%
56-59%
55-58%
54-58%
54-58%
54-58%
Best for:
Earrings and Pendants

Bigger Spread – Rings – Smaller Spread​
Last edited: