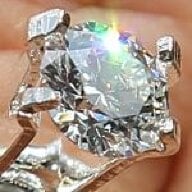 Joined

Apr 25, 2014
Messages

8,187
Thanks for that, makes sense! Is there an optimum table size then?
As with the comments on angles in the other thread, there is a range of table sizes that work - there is not one single number that is an optimum.
Which you prefer depends on your taste. White light preference? Larger table. Fire preference? Smaller table. Larger stone? Smaller table will probably look better.
This is all contained within the Table Garry drew up on the previous page.