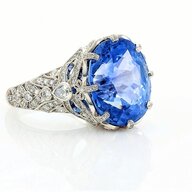 Joined

Apr 29, 2020
Messages

158
This was a few rings ago, but I had Single Stone cut my ideal H&A into an OEC and they were amazing. Here is the thread for reference:

Hi everyone! My Single Stone reset featuring my RB --> OEC recut is finally done! For those who haven't read my story, check out my previous thread discussing the recut process: https://www.pricescope.com/community/threads/rb-to-oec-recut-before-and-after-pics.177547/ I want to start out by...
Oh my goodness gracious!That is amazing! What a gorgeous diamond and setting.There is something about that cut that just gives me goosebumps! What size diamond did you start with and how much did you lose? Mine is also a tad yellow but will cutting make that more prominent or less? Or no change? I know a lot of older stones have a bit of color to them so with mine having color,it may look pretty with that cut.. Yours looks pristinely white!!!I have so many questions but I cannot thank you enough for showing me this ring! I am truly blown away!