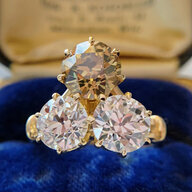 Joined

Jul 23, 2012
Messages

19,302
Chrono|1475690761|4083902 said:

MB21|1475690585|4083899 said:

probably not, but isnt that a mixed light situation? You might encounter that indoors during the day sometimes but outside it would appear blue/green and inside at night or with little natural light it would look purple/red

If that is the case, you are probably best to stick with a non-colour changer. We are in mixed lighting most of the time, even if we are unaware of it. Alexandrites are notorious for looking muddy most of the time due to the light conditions unless it is a very fine stone and those cost $$$$$.
That was exactly what I was going to say.