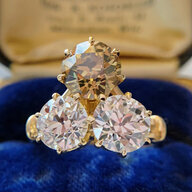 Joined

Jul 23, 2012
Messages

19,302
MB21|1476471200|4087112 said:

Niel|1476469934|4087101 said:

That's great, honestly if I wasn't so happy I'd be pretty jealous!

I know you had the ctw what's the dimensions of the stone? Is your 1500 firm? Does it have to be in platinum?

Ugh. This could have been such a long hunt for you I dont know how you managed it so quickly

Don't know the dimensions yet. I would like to stay 1500 and platinum. Want to keep it fairly simple and classic. Was even thinking solitaire with a stone of this size. Just to showcase it.
I will advise you most people don't like true solitaire colored stone rings. Some gemstone collectors do of course but for an engagement ring I would strongly advise getting some diamonds in some regard. I am in the camo that says a three stone with diamond sides is a way to make a colored stone e ring look very "engagementy" , and youll have trouble finding a well made halo in palt under 1500