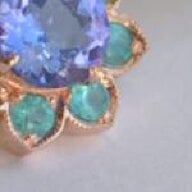 Joined

Mar 27, 2015
Messages

585
Purple Garnets ... A recent garnet find in Mozambique that's tested as a Rhodolite (52% pyrope, 47% almandine and 1% andradite) - but purple (and pink and violet and red)
At least four (possibly five) PS'ers have recently purchased precision cut purple garnets (
NKOTB, Acinom, Arabella, Sungura
and I think
Lilmosun
)
The intent of this thread is to gather pictures and stories all in one place and show them off and see if we can figure out who is cutting some next
I'll start with highlights of mine. I encourage others to post. I'll continue to post more content in the coming days
My purple garnet story
It all started with this post from
NKOTB
on July 12
I haven't been so excited about a gem color since I saw my first tanzanite
On Aug 5 I bought my first pair of 6mm from Yvonne Raley and as of yesterday I have 10. It's a full blown obsession. They are:
3 pair (6, 5, and 4mm) from Yvonne Raley
2 pieces of facet rough from New Era Gems (7 ct and 13 ct)
A 7mm+ round cut by Gene at Precision Gem
A 4.87ct 12x7 rectangle cut by Jordan Wilkins of Faceting Fantasies
I'm limiting myself to 1-2 pics of each for today but I'll my impressions and more pics in time. This post is already too long
Purple garnet and color change garnet in rose gold by Yvonne Raley of Cecile Raley Designs. I'm thrilled with the color combo that I came up with by myself (yay!!!) with Yvonne's blessing of course. Sunflower ring with 6mm purple garnet center and 1.3mm Tanzanian color change garnet petals. 4mm purple garnets in petal danglies. 6mm purple garnet in rose gold hex pendant with color change garnet in petal. Photos in today's east coast rain
Precision cut purple garnets photographed in today's rain. Photos to emphasize the color flashes of pink, purple, violet, red and gold!!!
Gene's chunky faceted round with a high crown is as gorgeous. The large facets break up the light to create a very different effect from the 6mm with smaller facets. More dramatic. The rectangle, a custom design by Jordan Wilkins, is very transparent and cut with such precision. He was spare with facets and they really play with the light creating wavy patterns on the table. Both gems are spectacular and I'll will be setting both with your guidance and suggestions!
My rough are from New Era Gems. I bought them at the East Coast Gem and Mineral Show in Springfield MA in August. I didn't pick them myself. I wouldn't have any idea what to look for. But I asked for rough to cut a largish square. The smaller piece will never be cut. It is only 5 or 6 mm thick and so transparent I just want to keep it as is