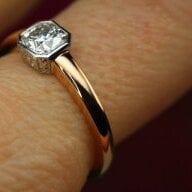 Joined

May 1, 2007
Messages

3,005
Absolutely nothing for you to be apologetic for here, in my book. I'm sure whoever it was addressed to took it as a compliment!

I don't feel right posting copies of the emails I received here but... They all had *clear* tones of either "I demand you accept my advances", or "you should feel guilty if you don't accept my advances", or both. And not in a joking or cute or friendly way. One of these people even stated that she would come to my hometown to pick up to avoid shipping costs, and told me which weeks would work for her - which made me wonder if she'd actually looked me up and found out where I live...

I ignored all of them and never heard anything else, so I'm not worried. If they ever do write me again, I'll be reporting them to PS admins (I think I know one person's PS handle, though I'm not totally sure) and sharing screenshots here as a "be wary" to everyone else.
This whole thread has given me the heebie-jeebies... and then
this
? What the actual eff is wrong with this person?
ETA: when I say 'whole thread' I am referring to people contacting others expecting/hoping they'll sell their pieces to them. Not the one-off 'if you ever want to sell that keep me in mind' comments meant to convey just how much a piece strikes a chord of beauty.