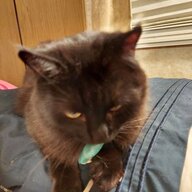 Joined

Apr 7, 2020
Messages

180
When my dog was a puppy, I used to get strangers coming up to me at the pet store and at the dog park asking to buy her. I was like...just...go buy your own?? Plenty of dogs out there!
I've had multiple people tell me they want my dog. Not a dog like my dog. No, my dog.
She's mine, and yes - she's awesome. Maybe if they had been the smart one and rescued her from the animal control shelter instead of me, then they could have had the awesome dog.