Joined

Sep 14, 2023
Messages

25
Hi all,
I've been lurking for about ~1 month and finally created an account. I'm on the hunt for my perfect ring and am struggling to locate it. Before I cave and go the old diamond with a new/reproduction setting route, I'd be incredibly appreciative of any help/guidance you all may have in finding a true antique beauty!
Ideal specifications
:
Setting:

Edwardian or Art Deco — original
White gold or platinum
No overtly feminine designs (flowers, butterflies, ribbons tied in a bow)

Diamond:

OEC or transitional cut
.85-1.5 carats
>=SI2 clarity (eye clean)
>K color
Budget
: ~$8,000 USD
So far, I've tried all of the vendors listed in the pinned post, Etsy, 1st Dibs, eBay, etc. etc. I'm located in Australia, so it's been a struggle to find much in person, though I've also visited ~6 local antique/pawn shops. The closest I've come to The One is the following: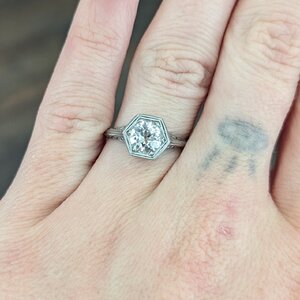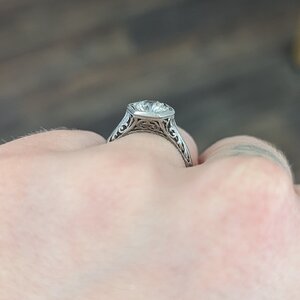 My only hesitation with it is that the videos I've seen don't indicate much sparkle and almost no fire. Disappointing! Do you think the setting is not letting in enough light?
I also love this ring, which has already sold (much to my dismay):
https://pebbleandpolish.com/product...ia-1-59-carat-old-european-cut-diamond-center
Apologies for the long-winded post, and thank you
so much
in advance!